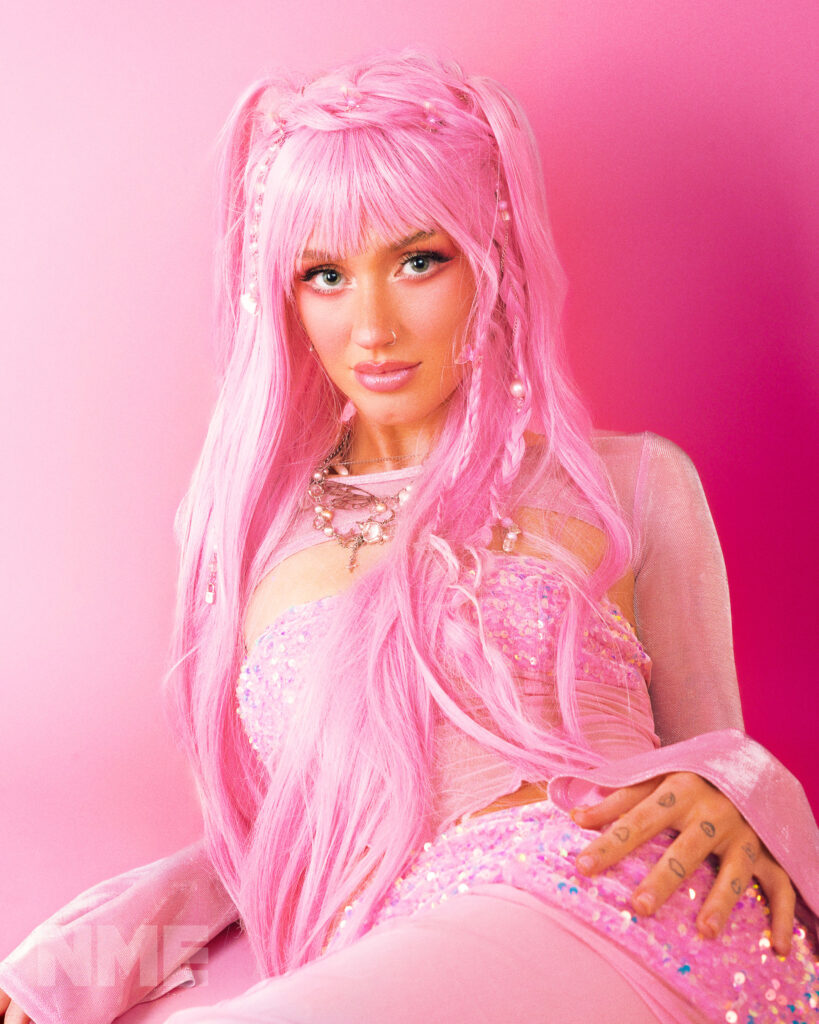 MANY LITTLE GIRLS dream of being a princess. Or a fairy. Or a fairy princess. For most of us without blue blood, those dreams fade as we age, with visions of pink tutus and glittery wings replaced by power-suits and computer screens. Not for Peach PRC, though.

Since she burst into the public consciousness back in 2020, taking over TikTok with her candid storytimes and spontaneous vlogs, the Adelaide-born singer-songwriter-slash-internet-personality has ridden the waves of internet stardom into hyper pop's royal circles. Pink-blooded (more on that later), undeniably talented and almost unprecedentedly accessible, the artist quickly found herself ascending to Australian pop's upper echelons.

Born Shaylee Curnow, the musician renamed herself 'Peach Porcelain' (partly after Super Mario Brothers' dual damsel-heroine, Princess Peach) when she began working as a stripper aged 19. When, encouraged by her younger sister, she joined TikTok several years later, her faux-last name was shortened, and she was re-christened Peach PRC. And her name wasn't the only thing that changed with that account.
After signing up to the app, Curnow's following climbed quickly.
"I'd been trying to do music professionally for years before TikTok," she told me over Zoom. "I auditioned for all those reality shows like [Australian] Idol and [Australia's] Got Talent and X Factor and all those, and never had any luck."
She'd been putting content online, YouTube specifically, for years before TikTok came along. As luck would have it, a successful talent show entry would see her win a studio recording session, where she would record her first proper piece of music.
"Tik Tok was just something I did for fun, just to joke around," she explained. "And then people were like, following for just my personality, I guess, I was like, 'well, while you're here, here's my music as well' — and it's been the thing that kind of launched [my career]."
Curnow enjoyed her first TikTok-viral drop with 2021's "Josh," her first single released after signing with Republic Records. Featuring a scratchy introductory vocal of Curnow laughing — "He's going to kill me. I said I'd change it to John …. Fuck it," — the song blends confessional, deep-cutting lyrics, directed at a no-good ex-boyfriend, with upbeat synths and boppy beats.
She quickly followed this up with 2022's beloved blasphemy bop, "God Is a Freak," which sees her — "and I mean this respectfully," she sings — grapple with the paradoxes of religion. Going three for three, "Perfect For You" — the lead track from her second EP, Manic Dream Pixie — scored her a hattrick of TikTok viral drops after taking off thanks to its interpolation of Paris Hilton's "Stars Are Blind". The song, which Curnow wrote about her girlfriend, saw success beyond the app as well, reaching number seven on the ARIA Singles Chart and even getting the tick of approval from Hilton herself.
While Curnow has well and truly established and proven herself as a musician, the reach of her social media presence cannot be understated.
"This gives me Peach PRC vibes," reads her current TikTok bio — a sort of 'welcome' to a page that serves as the star's vision board, video diary and promotional platform all at once. The quote is one you'll find littered across the app; commented beneath videos of cartoon unicorns and chaotic pieces-to-camera, or captioning clips of girls dying their hair pink or wearing floral corsetry.
In her years active, followers have watched on as she documented, with unflinching candour, her fluctuating mental health, struggles with addiction, and evolving aesthetic, which is anchored in a love of glitter, hyper-feminine motifs and lots of pink.
Even when we speak over Zoom, Curnow sits on her bed wearing a pink jumper and shorts, a rose-coloured tint in her hair. A lesbian flag hangs on the wall behind her. It's a background many followers would recognise from her TikTok channel. This pink-washed world is one that at a glance, you'd be forgiven for thinking lends itself to a character. It isn't.